Register
Scoops, Boston Kings & Aces Summer Camp Lacrosse · Co-Ed
Individual Fees

Regular

$225.00
Boston Kings and Aces Summer Day Camp

The University Sports Complex (indoors) @ Startland
Boys and Girls, Grades K-6
- Scoops Lax: Boys & Girls K-2
- Boston Kings: Boys Gr 3-8
- Aces: Girls Gr. 3-8
NEW DATES July 9-12 (4 days): Mon-Thur.
NEW TIMES Noon - 4:00pm

Drop off

11:30-Noon

Pick Up: 4:00-4:30pm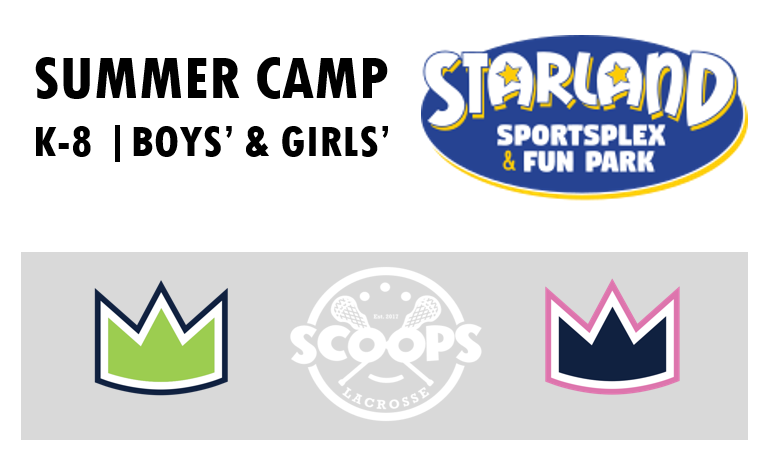 This day camp is run by senior members of our Boston Kings (boys) and Aces (girls) staff (10-1 camper-to-coach ratio). This is the 10th year of our Kings summer camp! The focus is player development and offering a lacrosse experience that, above all else, increases a player's understanding and love of the game. So, when they finish with our camp they will already be looking forward to the next time they can throw a helmet on and throw the rubber ball!
Cost for the camp: $225/camper - includes reversible pinnie, camp tee shirt, and water bottle.
Camp Notes

Campers will be split by age and at certain points ability, to assure a 4-day curriculum that will suit the beginner to the advanced player.

First 1/3 of the day: Funamental Skills
Second 1/3 of the day: Small ball and situational elements
Thrid 1/3 of the day: Cross field games and challenges

Boys and girls will have separate groups, coaches, and curriculum.
Lots of camp challenges and giveaways to keep thing interesting!
No weather worries! We are indoors (mostly)!
We will also be taking advantage of the other activities and amenities Starland has to offer (snack shack, soccer, basketball, minigolf, etc!)
Event Notes:
Now accepting registrations!